a The lined A4 notebook is held open on a board, heavily drawn with the love hearts and random thoughts of an 18-year-old girl, not much different from every other 18-year-old girl in history. "Just simple fuckin' nice" is the title of a list of four classic songs, including Bobby Darin's I Wanna Be Around (1965), along with the lyrics "Chris Taylor Loves Amy Winehouse" (with a record number of likes)," Paul likes Watson Amy Winehouse" (with a number of likable people recorded), minute notes on how to fill out the form and send a check to the Driver and Vehicle Licensing Agency in Swansea, a shopping list that includes "£200 – fridge, £40 – chile shoes", £50 – Chanel No. 5?", and five ominous words floating from a wave of love hearts: "Following a diet without dairy or carbohydrates."
It's a testament to the mystery and absurdity of fame how scraps of ordinary life become antique treasures upon death, but it's these inner-world details that stay with you throughout Amy: Beyond the Stage, the design museum's first exhibit dedicated to a single musical artist. Over a year in production and at the instigation of her father, Mitch (who asked Emmy's designer, Naomi Berry, to approach the museum), it's a charming celebration of a painfully short life: early years notebooks and portraits donated by Amy's mother, Janice. The walls are lively with TV screens showing early interviews and audio demos (unleashing the full strength of Winehouse's character and incredible vocal talent); an upscale reconstruction of London's Metropolis Studios; Handwritten words from Frank and Back to Black – relentlessly honest and often hilarious – now under glass like freak butterflies.
There's also tangible sadness: Her most famous guitars have silently hung on the walls, her famous dresses are fixed to mannequins, many of them on loan after being sold at auction in November in Los Angeles, raising more than $4 million (all profits from both auctions) and the gallery is dedicated for the Amy Winehouse Foundation).
The most influential artifacts, though, are elsewhere: street signs in Camden Square, north London, which fans claimed were engraved condolence books from the day she died in July 2011 (stolen 14 times and now belong to the family), her beloved Wurlitzer jukebox. , the used mascara wand from the Back to Black era: She's now a millionaire, but she's still a Rimmel brand loyalist (who no doubt cried out at her sight, "Get the London look!"). No wonder, for Adele, the Winehouse was the best in effect — a screen showing Adele's Albert Hall performance in September 2011, pleading with audiences to turn on their phone lights so the dark place became a constellation of stars: "So Amy can see us now, from upstairs. ".
The psychological distress that Winehouse suffered, through the dangers of fame and addiction, is viewed from a different perspective today. One exhibit, In Spotlight, reflects on how the mid-2000s mainstream media, which gleefully parodied her struggles, "suggesting that Amy was dysfunctional and in need of sympathy and support," has now evolved in Community encouragement for "a heightened awareness of the relationship between general cognition and self-esteem." Was she alive now, did she receive the level of support today? Rudely, she might as well have done it.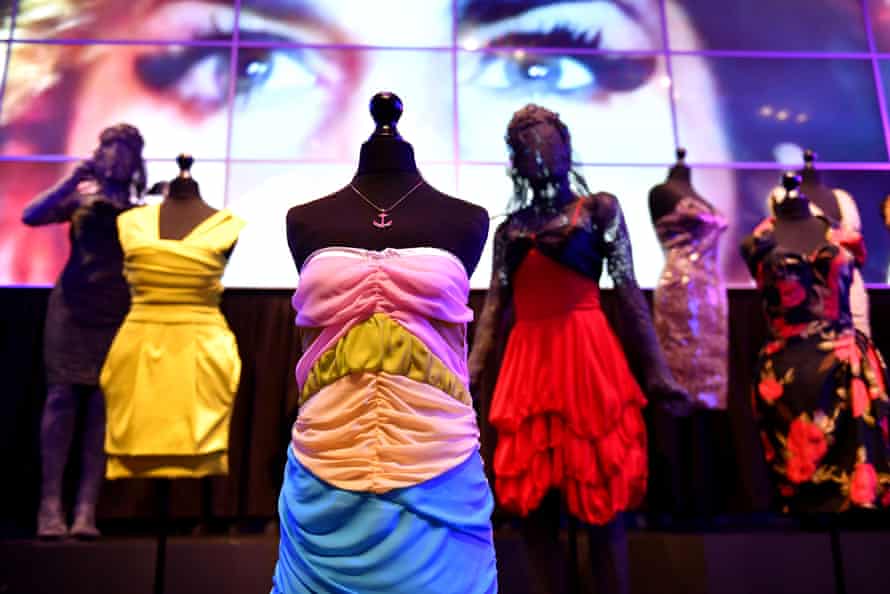 The show's conclusion is the requisite "immersive experience," a mirrored, semi-circular space featuring footage of Shepherd's Bush Empire's performance of Tears Dry on Their Own in 2007 (reimagined as New York's Joe's Pub Jazz Club), images distorted into a graphic impressionist dream scene, Beautiful, cheerful and annoyingly ghostly at the same time. It's a racy conclusion that Amy Winehouse is no longer immortal through her music – she was a gifted 27-year-old woman gone forever. It is also a testament to the mysteries of death itself, that the more her life regresses, the brighter her brilliance becomes.